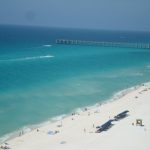 Panama City Beach saw a nearly 20 percent increase during the month of March according to the latest round of bed tax numbers, exceeding expectations.
College students on Spring Break were an obvious factor, but tourism officials are also crediting the increase to great weather and a positive marketing spin.
Student marketing firm Collegiate Marketing Group (CMG) also played a role in helping market the sun and fun destination commonly referred to as the "Spring Break Capital of the World". The company oversees the increasingly popular spring break website www.pcbeachspringbreak.com and its many social media spin-offs.
The branded website was visited by more than 100,000 unique visitors each during the months of February and March. Its Facebook page alone has more than 72,000 likes, which makes it the most popular Spring Break Facebook fan page in the world.
"Our involvement does indeed help with the successful promotion of the destination," said Carm Giardina, a representative of CMG. "However, there are many reasons that can contribute to its increased popularity."
The fact that the north-western Florida destination is easily accessible by car, and now by air as well, is a major factor in the decision planning of a college student.
"The destination remains very popular because of its location," continued Giardina. "You don't have to travel extremely far to get there if you live in the mid-west and north-eastern U.S. states. Not to mention, the prices here are still very much affordable for students on a designed budget."
For more information on Spring Break in Panama City Beach, Florida, please visit the official spring break website at www.pcbeachspringbreak.com