The 'Leader in Student Travel' is Offering Customers a Promotion No Student Should Refuse
Burlington, ON (September 28, 2012) /via CMG MEDIA – Beginning October 1, student travel company bestbreaktours.com is launching a fall season promotion that will aim to attract thousands of potential new customers.
For the entire month of October, anyone creating a free online account at bestbreaktours.com will receive a 50 dollar credit toward any trip that is booked before December 1, 2012.
In addition to that, anyone 'Liking' the company's Facebook brand page will automatically be entered in a free trip giveaway draw happening each week in November. Each Facebook follower wishing to have a shot at winning a free trip must also be registered as an online member.
"It's an exciting time to be in the student travel business," says Carm Giardina, a representative of Collegiate Marketing Group – the agency of record that's handling all bestbreaktours.com's marketing and promotion efforts. "The youth demographic is becoming more and more travel-savvy, and this is a great time to try and capitalize on it and develop some momentum of our own."
Earlier in the year, bestbreaktours.com announced an official re-brand of the company which included a whole new look (new logo, slogan and the dot com extension was added to their name), and bigger and better destination offerings. In many ways, the company was announcing their intent to make a big and bold return to the youth travel market. Not that they ever left, they just hadn't offered anything new or exciting in a number of years.
"Any active company has fears of being complacent, especially when you're in an industry and market that is growing," notes Giardina. "Companies need to force themselves to revitalize and freshen up every once in a while. It's healthy, and it's essential if you want to remain competitive."
The October campaign is designed to drive traffic to the bestbreaktours.com website, which is actively promoting five major trip packages: New Year's trips to both Montreal and New York City; Two separate Canadian Spring Break trips to Panama City Beach, FL; A peak week American Spring Break trip to Panama City Beach in March – offered to Canadians for the very first time; And a high school Grad Trip package.
"The team at bestbreaktours.com wants all of their customers to have a great time this coming year – wherever it is they choose to go – and saving customers some money along the way only confirms the company's pledge that you won't find a better price anywhere else for the trips that are offered," boasts Giardina. "Stick with bestbreaktours.com where the promise is you'll experience travel in a much better way."
About bestbreaktours.com
With over 30 years of combined team experience, bestbreaktours.com has officially been in operation for eight years and is a proud member of the Travel Industry Council of Ontario (TICO). Recognized as the most affordable tour provider within the 18-24 demographic, bestbreaktours.com has a reputation for providing a vacation experience that is hassle free, safe, within your budget, and full of customer satisfaction and great memories. Vacation packages include only the best quality resorts, hotels, and tours as well as the best deals on the market. Book your best vacation today at www.bestbreaktours.com and join the conversation on Twitter and Facebook.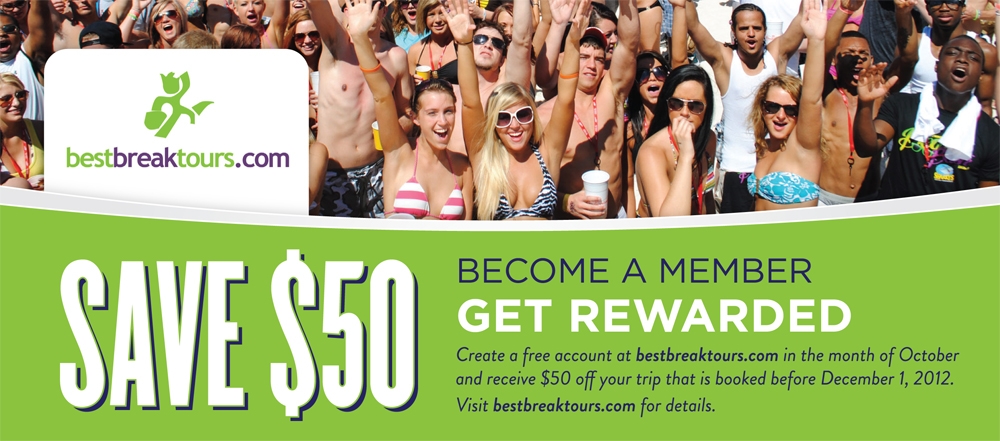 ###
Contact:
Carm Giardina
Communications for Collegiate Marketing Group, LLC
carm@cmgmediaagency.com