Make Your Spring Break 2013 Plans With PCBeachSpringBreak.com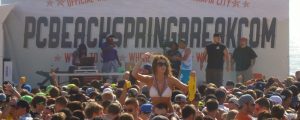 The 'Spring Break Capital of the World' has a newly updated and refreshed website. It can be viewed at pcbeachspringbreak.com.
There's no denying that Spring Break in Panama City Beach, Florida is highly regarded as the place to be in March if you're a college student. For more than 20 years, the home of the world's most beautiful beaches has hosted the number one student event of the year, and despite many fan sites that promote the North-West Florida hotspot, it has only really been since 2009 that the biggest party in the USA has had its very own 'official' home on the world wide web.
Managed and operated by Collegiate Marketing Group, the PCBeachSpringBreak brand has been recognized as the number one source of destination information to college spring breakers thanks in large part to their commitment to providing direct hotel booking information and other location-specific insights such as popular eateries, shopping spots and other fun activities. There's also a regularly updated Blog that communicates exciting and interesting news pertaining to Spring Break 2013.
The website generates more than 100,000 unique visitors per month on average, a number that swells to over 300,000 in the month of March. And in order to maintain peak interest, various social spin offs, including Facebook, Twitter, YouTube, Instagram, and its very own mobile app were added to the mix and have been instrumental in terms of brand development – each acting as major components in attracting website traffic and audience engagement.
Aside from a splashier look, the website has added some features, including a Social Trending Map and an Events Calendar which will allow visitors to stay up to date on what's happening in PCB year-round.
With the updated website, the goal is to build on PCBeachSpringBreak.com's steadfast reputation as being the number one spring break website in the world for students who are seeking a fun-filled and safe spring break each year, and to continue to act as an online and social ambassador for Panama City Beach, Florida and all that the destination can offer.
For more information about Spring Break in Panama City Beach, please visit www.pcbeachspringbreak.com and plan your Spring Break 2013 with us!