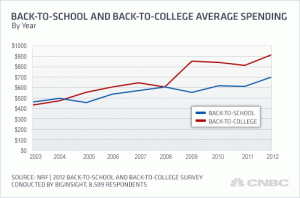 According to a National Retail Federation (NRF) and BIGinsight survey, online shopping is poised to grow this year over last year's numbers. More specifically, college students and their families will spend just over 12 percent more, or an average $907.22 on everything from dorm furniture and collegiate gear to school supplies and personal care items.
Total spending for back-to-college is expected to reach $53.5 billion. It's no wonder the back-to-school season brings smiles to retailers' faces. It serves as the second biggest consumer spending event for retailers behind the winter holidays.
According to the NRF survey, 8 in 10 (83.5%) back-to-college shoppers say the economy is impacting their spending plans. To compensate, more people this year will use the Internet to their advantage by doing more comparative shopping online (34.6% vs. 30.7%) and shopping online more often (20.5% vs. 18.8% last year.) The number of back-to-college shoppers buying something online this year is 37.3% – a record high since 2007; and $1,135.62 – the combined average that online back-to-college shoppers plan to spend overall.
As the economy continues to play a role in spending decisions, retailers will offer shoppers plenty of ways to save money on their websites, including bundles, free gifts and gift cards with their purchase and even free online shipping on school items, aiming to attract value-focused back-to-college shoppers.
However, in addition to the web, about half of online back-to-college shoppers will also shop in department stores, discount stores, the college bookstore, and clothing stores, among other venues.
Overall, college freshmen and their parents are expected to spend the most this year, spending an average of $929.35. Graduate students, preparing for life on their own or a career, will spend $879.89, followed by sophomores ($812.97), juniors ($767.41) and seniors ($680.70).
Not surprisingly, smartphones and tablet devices figure prominently in online back-to-college shoppers' plans. Half of smartphone owners in this group expect to research products and compare prices using this device, while approximately one third will tap their smartphone to look up retailer information, buy products, use apps to shop, and/or redeem coupons. Three in five tablet owners anticipate researching and pricing back-to-college items using their tablet device, half will make purchases, and almost two out five plan to redeem coupons.
So, if you're a business owner, what strategies should you immediately implement in order to engage these back-to-college online shoppers?
Start the conversation early!
According to a Class of 2015 study conducted by fellow youth marketing company MRY, the back-to-college conversation is becoming more and more perpetual throughout the year. College-bound students start connecting with their fellow peers as early as February and March, discussing everything from college acceptances in early spring to topics such as roommates, room assignments and orientation in June, July and beyond.
These students socialize about everything! From the exact size of their beds to how they should be accessorizing their rooms. Students would rather turn to their peers to find out how to best prepare and what they really need as opposed to taking the information from a college welcoming kit.
BIGinsight found that 29% of all back-to-college shoppers are starting to shop at least two months before school starts, which is up significantly over last year (24.4%), and highest in the survey's history!
Roll out a social campaign aimed at college shoppers
MRY states that 50% of the Class of 2015 have over 300 friends on Facebook, 43% have "liked" more than 23 brands, 40% visit Facebook more than 10 times per day, and 58% use Twitter "all the time". If college students are among your targeted customer base, then Facebook, Twitter and YouTube are three of the most important platforms for you to engage with your audience.
Make sure your marketing plan includes having a Mobile website
Two out of three students access social sites from their smartphone. Uploading photos via mobile devices is steadily increasing for the benefit of shopper decision-making. For example, 3 out of 10 consumers aged 18 to 34 years old have taken a picture of a product, sent pictures of products to friends, texted or called friends about products, and/or searched for a nearby store.
Mobile devices are quite simply enabling people to engage in a dialogue and commentary about the world around them. Retailers need to ensure that their sites and branched off site platforms are optimized for mobile devices. Ensur e that whatever marketing message you're trying to convey to your audience works well on mobile devices, and that customers have the resources necessary to easily spread the word about back-to-college ideas and solutions that they find.
– With added files taken from shop.org