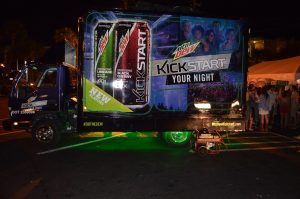 It's no secret as to why both major and smaller brands choose to activate during Spring Break each March. Connecting with students is so valuable to building brand awareness – so much so, that if you fail at winning the crowd, you've failed your entire mission.
Making that connection shouldn't require much effort at all if you're doing it right. The question is: How do you know you're doing it right?
Simply put, if the students are buying into your attempt to create a trendy promotion, then they will help you out by trending your brand in their own way – and we all know that through social media, there are many avenues to get your brand trending in a positive way.
It's worked for brands such as Gildan, Rider Sandals, Spotify and countless beverage brands including Joose, Rumchata, and Kickstart.
Usually, making that connection involves lots of product sampling, plenty of signage in the right locations, and even beach stage set-ups that force your brand to stand out among the rest. But it's also about having a great product to push – knowing that in the end, you can't fool anyone. Just because you're on Spring Break, doesn't mean you have a proof-positive promotional advantage.
Activations that are able to engage with students via any form of an experiential tactic are more likely to succeed in having student "influencers" take that brand experience back home to their college friends on campus, thus, a winning result.
"Just handing out freebies isn't necessarily cutting it anymore," said Carm Giardina, a representative of youth marketing firm Collegiate Marketing Group (CMG). "In order to really make an impression, brands need to add an experience-like dimension to their promotion."
What Giardina is implying is that Spring Break marketing is evolving with the times and simply handing out a free sample isn't strong enough to ensure that your product will last in the memory of a student heading back to school in a few days.
Brands that offer more "engagement" and allow for someone to "experience" a product are more likely to succeed. For example, Kickstart Energy Drink not only offered free samples of their new energy beverage, but also encouraged students to use their Instagram account for the purpose of winning cool prizes.
"Adding a social spin to a promotion is a popular choice for brands now because almost everyone in the student space is utilizing social media as a means of connecting, experiencing and sharing," added Giardina.
CMG has become a leader in the student marketing space and works with brands all year round to help connect them with students. CMG has overseen more than a dozen major brand activations and event programs thus far in 2014.
"The purpose of our many programs is to create a fun and memorable atmosphere in which college students can react positively to," said Giardina. "The goal is to deliver an authentic message on behalf of our clients in order to have our targeted consumer (in this case, the college spring breaker) leaving with an impression that will stretch far beyond Spring Break."
"The relationships that we have forged over the years have significantly helped us," added Giardina. "We're able to leverage those relationships, which ultimately becomes appealing for corporate brands wanting to partner with us."
To learn more about CMG, please visit their website at www.cmgmediaagency.com.