This coming Spring Break season, the Panamaniac Club Card will be celebrating its 20th Anniversary as the number one Spring Break program and VIP events card in Panama City Beach, Florida.
Thousands of cards are sold each year as students from all over the country clearly make the Panamaniac Club Card their top priority when it comes to Spring Break – and for good reason.
What started as a $20 card that could get spring breakers free cover charges, minimal free drinking hours, and some discounts at local stores, has turned into the ultimate Spring Break VIP program, offering perks that include a full week's schedule of FREE daily and nightly parties and high profile events at the biggest and best clubs on the beach! In addition, card holders now get over 30 hours of free drinking, premium swag items, triple the amount of discounts, and of course, a Free Spring Break T-Shirt!
But ask any spring breaker what they care most about during Spring Break and they'll tell you it's all about saving money – and the Panamaniac Club Card does just that.
Partying during Spring Break is a big deal. And Panama City Beach makes no exceptions. Some of the very best super clubs in North America are located right here in the Spring Break Capital.
Famous club nights at Spinnaker, Harpoon Harrys, Sharkys, Hammerhead Fred's and Coyote Ugly can add up. By purchasing the $50 dollar Panamaniac Club Card, students are able to party absolutely free! Why pay the high-priced cover charges if you don't have to?
Get the card and you'll save over $300 in cover charges by the time the week is over. Now that's what spring breakers want to hear, and that's what this card can do.
Avoid the rush when you get on the beach and purchase your 2013 Spring Break Panamaniac Club Card online.
Please click here to purchase your discounted card online right now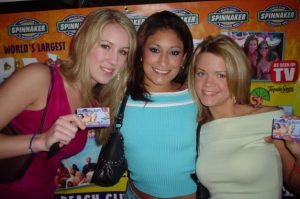 There are only a limited amount of cards that can be sold each week during Spring Break. Therefore, take advantage of this opportunity and get your card now.
This is the official and original party card of Spring Break in PCB. Don't be fooled by any other card – anything less than the Panamaniac Club Card is just a piece of plastic!
The Panamaniac Club Card is once again sure to be the most popular item in everyone's wallets this coming year. If you're planning to go to Spring Break in Panama City Beach in 2013, you need this card! Take this opportunity and pre-purchase your card online.
For more information, please visit www.panamaniacclubcard.com for all the details on the number one Spring Break program in Panama City Beach. And for information on Where to Stay and for all other up-to-date information on Spring Break 2013, please visit www.pcbeachspringbreak.com – the world's #1 Spring Break destination and events website!
We hope to see you at the Spring Break Capital of the World this coming season!