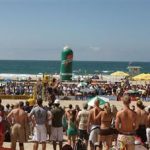 According to Collegiate Marketing Group and other travel industry experts, college students looking to get away for Spring Break last year preferred the white sand beaches of Panama City Beach, Florida far more than exotic international destinations. All the domestic Spring Break hotspots saw an increase in travelers due not only to students looking to curtail spending in this continued recession, but also to stay away from the violence and mayhem that has been ongoing in in some parts of Mexico.  "We're not necessarily telling students not to go, but we're going to certainly alert them," said Tom Dougan, vice president for student affairs at the University of Rhode Island. "There have been Americans kidnapped, and if you go you need to be very aware and very alert to this fact."
More than 100,000 high school and college age Americans travel to Mexican resort areas during Spring Break each year. Much of the drug violence is happening in border towns, and tourists have generally not been targeted, though there have been killings in the big Spring Break resorts of Acapulco and Cancun, well away from the border.
Panama City Beach, Florida expects that room sales will continue to be strong for Spring Break 2011 because it's considered to be an affordable option for students who don't want to spend a bundle on transportation and accommodations or worry about safety concerns attached to an international vacation. Collegiate Marketing Group is reporting that there are some truly impressive hotel package deals being offered right now for the 2011 Spring Break in Panama City Beach.
So if the average college student is looking to save a few dollars this Spring Break, then they should consider this incredibly popular domestic Spring Break destination. Every year at least a half a million students flock to this U.S. hotspot for some cheap fun in the sun. Well known as the "beach within reach" Panama City Beach is now the undisputed "Spring Break Capital of the World".
For more details log on to www.pcbeachspringbreak.com today.