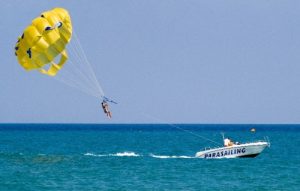 According to the Panama City Beach Convention and Visitor's Bureau (CVB), the home of the 'World's Most Beautiful Beaches' is now ranked fourth among top leisure destinations in the state of Florida.
The study, which was conducted by Visit Florida, the state's official consumer web site, positions Panama City Beach behind only Orlando, Miami, and Ft. Lauderdale.
"We have some of the best visitors, those folks that have fallen in love with Panama City Beach," said Dan Rowe, executive director of the CVB.
Despite the immense challenges the beach has faced over the past five years, like 2008's gas crisis, 2009's economic crisis, and 2010's oil spill disaster, Rowe says they keep coming back.
"We saw our tourist development tax collections, which equates to lodging revenue for the entire year of 2010, only fall by 1.8 percent."
And for the past few years, Rowe says the beach has been back on track and setting records. Now all eyes are looking towards the future. The CVB has set out a strategic plan that includes developing the beach as a year round destination, and establishing public venues.
"Through that diversification, we'll have a stronger economy and we'll be able to build to the future," Rowe said.
For more information on Panama City Beach, including information on Where to Stay packages, please visit www.bookpanamacitybeach.com